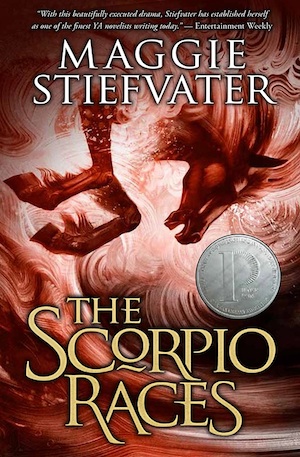 Book Blurb
Edit
Some race to win. Others race to survive.
It happens at the start of every November: the Scorpio Races. Based on the legends of the eich uisce — the Celtic water horse — The Scorpio Races take place on the tiny, fictional island of Thisby. Each November, water horses emerge from the black ocean and gallop the beach beneath the cliffs of Thisby. Riders attempt to keep hold of their water horses long enough to make it to the finish line.
Some riders live. Others die.
At age nineteen, Sean Kendrick is the returning champion. He is a young man of few words, and if he has any fears, he keeps them buried deep, where no one else can see them.
Puck Connolly is different. She never meant to ride in the Scorpio Races. But fate hasn't given her much of a choice. So she enters the competition - the first girl ever to do so. She is in no way prepared for what is going to happen. Only one can win.
Toronto Star
Edit
"[Stiefvater] creates her world so fully that it's a delight to lose oneself in it. Highly recommended."
People Magazine
Edit
"Tense, atmospheric, and utterly original."
"Fans of Stiefvater's Shiver will fall under her descriptive trance once again"
Seventeen Magazine
"The monstrous capaill uisce may be the scariest mythical creature we've ever encountered in any story. They are violent, unpredictable, and generally untrustworthy, making every page of the novel exciting and full of surprises."
Different Editions
Edit
Ad blocker interference detected!
Wikia is a free-to-use site that makes money from advertising. We have a modified experience for viewers using ad blockers

Wikia is not accessible if you've made further modifications. Remove the custom ad blocker rule(s) and the page will load as expected.